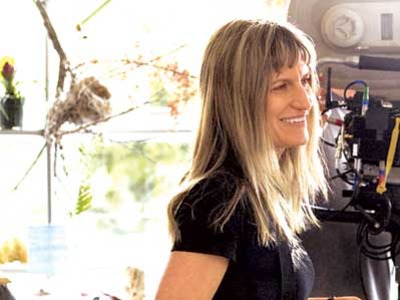 Renuka Jeyapalan WIFT-T is pleased to announce Renuka Jeyapalan as the winner of the 2010 Kodak New Vision Mentorship.
As part of the program, Renuka is currently preparing for the Toronto International Film Festival (TIFF) through an intensive business mentorship with Laurie May, Co-President of Maple Pictures. Renuka will also receive an all-access industry pass to the festival and a post-TIFF creative mentorship with director Catherine Hardwicke (Twilight, Thirteen).
"The Kodak New Vision Mentorship allows WIFT-T to continue to develop Canadian female directors and to play a role in their ongoing success," says Sadia Zaman, Executive Director of WIFT-T. "We look forward to Renuka's first feature and want to thank Kodak, Catherine Hardwicke and Laurie May for their invaluable contribution to the industry."
"Our ongoing partnership with WIFT-T, and the creation of the very successful Kodak New Vision Mentorship, allows us to offer an amazing opportunity to talented Canadian directors," says Trish Mehrasa, Kodak Canada Entertainment Imaging National Operations Manager. "Having the support and expertise of industry leaders such as Laurie May and Catherine Hardwicke to nurture the vision of emerging female filmmakers underlines the importance of the Kodak New Vision Mentorship."
CONTINUE....