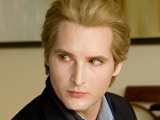 Twilight star Peter Facinelli has described the fanbase behind the franchise as "phenomenal".
The actor, who plays Dr Carlisle Cullen in the vampire saga, told ET Online that he enjoys "connecting" with fans through Twitter.
"The fanbase has been so phenomenal. When you go to an event, people have flown in from other countries just to take a picture with you," he said.
"That is a loyal fanbase that you can't even imagine having. I am thankful for all of them. That is why I try to give back in connecting with them."
When asked if he has any information on the proposed fourth instalment Breaking Dawn, he replied: "I don't know. Usually the fans know before I do."
The Twilight Saga: Eclipse is released in June and Facinelli can be seen in the second season of Nurse Jackie from March 22 on Showtime.
Source