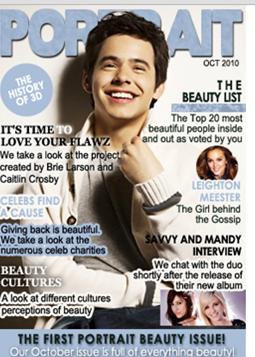 In July we asked you to nominate the celebs you feel are the most beautiful, inside and out. We asked you to consider more than just outward appearance when casting your nominations, career choices, role model status, charity involvement and more was supposed to come into your decision. The fifty celebs we received the most nominations for competed in a poll that ran through August and September. Voting has now closed and your top twenty are below. Various members of the Portrait staff highlight the celebs selected and look at just why you chose them, including comments submitted by readers during the nominations phase.
Robert Pattinson at # 6, Kristen Stewart at # 7 and Nikki Reed at # 9
#6 Robert Pattinson
"I don't want to look trendy, so I try to find clothes where somebody wouldn't be able to say, 'Oh, you're a cool guy.'"
Robert Pattinson, known for his role as Edward Cullen; is more than just an attractive vampire, yes I admit I was one of those girls who fell for Robert's grungy chic style and was totally on the Edward Cullen band wagon for awhile myself. He has been labelled as a heart-throb for young teen girls with sex appeal for the older women since filming the Twilight series; status symbols he doesn't quite get. Robert Pattinson's messy hairstyle paired with his grunge fashion makes him that much more attractive to the ladies then just his scruffy facial hair alone. Besides his hair and masculine jaw line a couple of things that also caught a lot of fans eyes were his beautiful bluish-grey eyes and his height; us girls tend to like the taller boys after all.
#7 Kristen Stewart
"It's ridiculous that a certain look equals being conventionally pretty."
Kristen Stewart's role of Bella Swan in Twilight has us taking notice in this young actress, not only in her acting but her unconventional beauty as well. Her not so thought out looks are more for her comfort, which makes some guys swoon even more to know that she doesn't worry too much about appearance but can also clean up quite nice for awards and films. The girls love her down to earth look and find it makes her more approachable. Fans don't immediately go 'Oh my god, it's the girl that plays Bella' instead it's more 'Hey isn't that Kristen Stewart or Bella'. And her personality fits this; she's sweet shy and has none of the predetermined star qualities other celebrities seem to get after awhile in the business.
#9 Nikki Reed
"I don't have a particular 'style', I think I'm still figuring that out."
Nikki Reed is a very pretty young actress that many of you may remember from 'thirteen' or even more recently 'Twilight'. The always humble Nikki admits that while the red carpet may be full of amazing and gorgeous people, it's nothing like real life! "No one looks like this, this is a fantasy world," Nikki has said. "My stylist would probably hang me for giving away all the secrets for what you do," she admits. "There are so many contraptions and things are made, corsets all the time." The young beauty also admits life isn't always so glamorous; she's not big on makeup but never leaves home without Vaseline! "It goes in the hair, the mouth, the eyelashes," Nikki mentions about the product she uses most.
Source