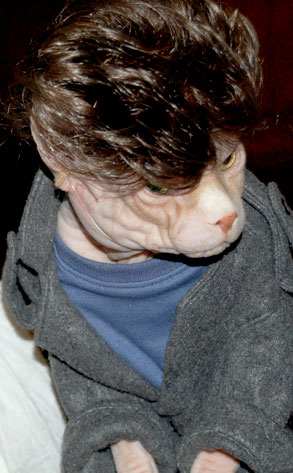 It was a year ago when Robert Pattinson, while promoting New Moon at Comic-Con, said he doubted he'd ever perform his music at an open-mic night because he's "too much of a pussy."
It seems like someone may have taken that a bit too literal. Spotted last night in New York City was Edward Cullen…the pussycat!
No, it's not a new breed of feline. The hairless wonder was dressed as Bella's bloodsucking beau for the 15th birthday party for Matilda, the resident cat at the legendary Algonquin Hotel.
It's a tradition. Matilda's big day is always celebrated with a cat show featuring kitties donning fashions from Meow Wear and a fundraiser for the North Shore Animal League.
Source