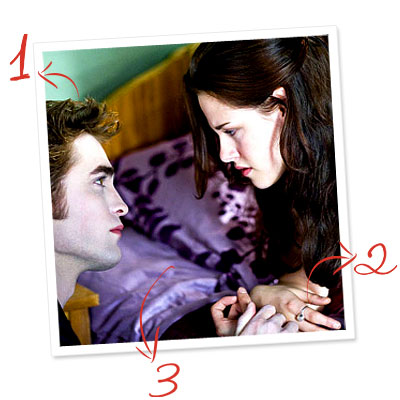 The Star-Crossed Lovers' Style
1. EDWARD'S AMAZING HAIR: "They were a great group to work with, and they all had pretty good hair—but I have to say, Robert's was probably the best," says New Moon hairstylist Thom McIntyre. "I trimmed his hair probably every week to ten days, just to keep the cut really fresh and chopped into. When we were shooting, I restyled it once or twice a day—the look is meant to be very tousled, and I wanted to be sure it didn't lay flat."
2. BELLA'S RING: Our heroine's moonstone ring "is a carryover from the first film," says wardrobe stylist Tish Monaghan. "The props department had it copied—there were three of them."
3. STYLISH SHEETS: Bella's comforter set is from Target's Modern Home collection. While the exact pattern is sold out—though one enterprising eBay auctioneer has it up for bids—a similar style is available at Target stores.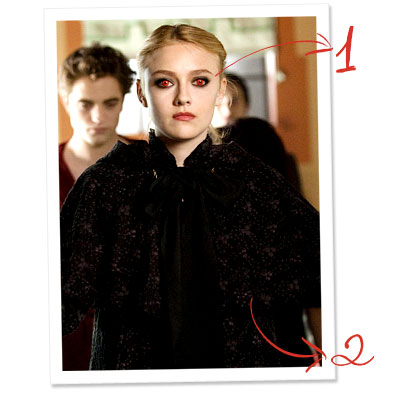 The Look of the Volturi
1. CONTACTS: Special effects designer Cristina Patterson Ceret hand-painted each set of the contact lenses worn by the Volturi. She has also created ocular illusions for films like Memoirs of a Geisha, Superman Returns and the upcoming Alice in Wonderland.
2. NOT-SO-BASIC-BLACK FASHION: "I carefully color graded the shades of black on the characters in the chamber to show the ascent of power, with Jane [Dakota Fanning] and the other leaders being the darkest shade of all," says Monaghan. "Jane wears a custom cloak that is sweetness and sinister combined."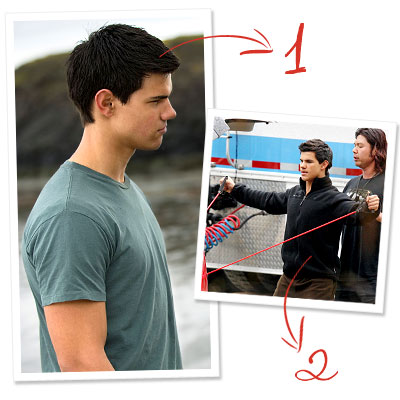 Jacob's Transformation
1. TINY TEES: "Jacob [Taylor Lautner] was supposed to have grown taller and really filled out, so we tailored all of the T-shirts he wore to make it seem like he was busting out of them," says Monaghan. For added effect, Lautner wore lifts in his shoes to exaggerate the height difference between Jacob and Bella.
2. TRAINING REGIMEN: "I hit the gym, got myself a personal trainer and started eating a lot," Lautner told us about becoming the bigger, buffer Jacob. "I had to be eating a minimum of 4,000 calories a day, so my trainer was always bringing me snacks." He also did strength-training exercises in his downtime on set.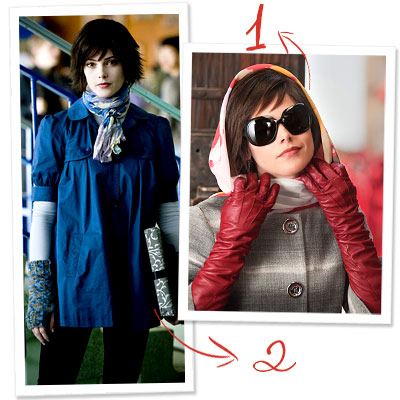 Alice: The Family Fashionista
1. FASHION: "Alice [Ashley Greene] is the most stylish Cullen and she's into accessories!" declares Monaghan, who chose the crimson-hued Gala gloves because "they looked bloody cute!" (Try these Ann Taylor gloves for a similar look.) Mongahan also used accessories from Banana Republic, Ray-Ban and Lacoste to complete Alice's stylish ensembles.
2. BEAUTY: For Alice's vampire pout, makeup artist Norma Hill-Patton played up Greene's natural lip color with MAC Llipglass in the now-discontinued Plum Parfait shade (try Spite for a similar look). Hill-Patton also added extra volume to Alice's lashes using Ardell DuraLash Flare falsies in Short Black.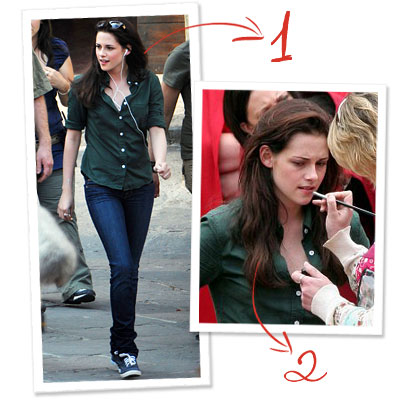 Bella's Must-Haves
1. FASHION: Monaghan kept Bella [Kristen Stewart] in "practical" pieces from Band of Outsiders, J Brand and tons of sneakers from Nike, Keds and Converse, a brand that Stewart often wears in real life.
2. BEAUTY: McIntyre maintained Stewart's rich brown hair color with Kerastase Bain Miroir Shampoo and Conditioner for Color-Treated Hair. "She goes through different stages in the movie—a breakup, her depression and then new motivation in her life," says McIntyre. "I used Kerastase Nutri-Sculpt Mousse when she was more carefree because it worked with the natural waves in her hair and gave it movement."
Source