SheKnows got the chance to sit down and talk with the Twilight stars Taylor Lautner, Robert Patinson and Kristen Stewart before the Eclipse movie hits the big screen on June 30.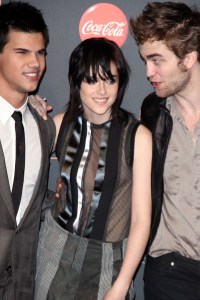 Taylor talks
SheKnows: Taylor, is there a downside to fame?
Taylor Lautner: There's a million more pros than cons, for sure. Obviously, the privacy thing is a little different. It's not normal to wake up and have 12 paparazzi cars waiting outside to follow you to Starbucks in the morning. But, there's a lot more pros, and I'm willing to put up with those cons, for sure.
SheKnows: Do you ever go out without being recognized now?
Taylor Lautner: Yeah. You can be creative. It's a matter of choosing where you go and when you go: A mall, probably not! A movie theatre, probably not. I have my hang-outs, like the good low-key restaurants. Sometimes you're like, "I don't care. I want to go bowling and I'm going to do it." Sure enough, it's hectic, but you have fun. Then, you go home and you think, "I'm not going bowling for a while."
SheKnows: How would life be different without Twilight?
Taylor Lautner: This franchise has been such an incredible platform. It's amazing. I'm so thankful for this franchise and the opportunity. I've had the time of my life, the last two years, and I'm just so thankful to be in this position now. I'm having fun making movies. I've met a lot of cool new people and had the opportunity to work with a lot of new talented people and amazing is the best word for it.
SheKnows: Now, you had to get in shape for New Moon beyond anything you imagined. What has been the biggest surprise to you in your post-buff life?
Taylor Lautner in EclipseTaylor Lautner: The most interesting thing I found is that it's just as hard to maintain it as it was to put it on in the first place. Trust me, it was really hard putting it on and it is just as hard keeping it. If I'm really busy and can't get to the gym, or if I'm busy and don't have time to eat, it just comes off and it takes 10 times the amount of time to put it back on again. It's tough.
SheKnows: If you could cheat with any food for one moment, what would it be?
Taylor Lautner: Occasionally, you really want some ice cream, for sure [laughs]. You'll cheat a time or two. When it comes closer to filming, or when you have a magazine photo shoot, then you really just have to stay strong and cut it out.
SheKnows: Which leads us to the scene where Edward and Bella drive up and you're standing there without a shirt…
Taylor Lautner: I believe it was actually in the book [laughs], but it was definitely in the script. When I read that, for the first time, I couldn't wait for Rob to deliver that line, "Doesn't he own a shirt." It was funny. It was quite obvious. When they (Bella and Edward) pull up in the middle of the street -- even with the position I'm in -- I'm leaning back up against the car, with my hands behind me, it looks like I'm flexing [laughs]. Those are the awkward scenes, when everybody else is fully clothed, it's raining and I'm posing for them.

Kristen Stewart's secret to success
SheKnows: Twilight, New Moon and now Eclipse pandemonium arises for many reasons. What do you think is the secret to the success?
Kristen Stewart: I don't think it's a big phenomenon because of the mythical vampire aspect. It definitely takes a good story and it raises the stakes and makes it a little bit more interesting, but I think it's just about how whole the characters are and how easy it is to have faith in them and be addicted to them. They let you down a lot and then pick themselves back up. I don't think it has anything to do with the vampire thing. I think that just makes it a little cooler. I think that, if you took out all the mythical aspects of the story, that it would still stand as a really strong and interesting thing to be a part of.
SheKnows: But there is that element of the supernatural…
Kristen Stewart: I think the whole vampire and werewolf thing are really good plot devices. All of the aspects of the vampire and werewolf are fully encompassed by the humans, by Jacob and Edward. Our movie isn't perfect. None of our characters are perfect, at all. They're all so completely crazy and messed up, and that's why they go well together. They don't make excuses for their weirdness and they accept each other for who they are. On paper, I'm sure that if you were a friend of Bella's, you'd be telling her, "You better check your boy because he ain't treating you well." [Laughing] And Jacob is a nutcase.
Robert Pattinson & Kristen Stewart: The obsession
SheKnows: Do you two understand why there is an obsession about whether or not you and Kristen Stewart are dating in real life?
Robert Pattinson: No, not really. Well, I guess people like stories. My basic conclusion is that they just want everything to be about Twilight.
Kristen Stewart and Robert Pattinson in Eclipse
SheKnows: You were on the first soundtrack and when we spoke for the first Twilight, you felt you could no longer go and do amateur music nights. Have you been able to play much anymore and will we see you on the Breaking Dawn soundtrack?
Robert Pattinson: I've done a couple of things. I've always just been playing around. It was nice to be involved in the first one. I just saw Twilight on TV, for the first time, a few days ago, and when my song came on, I was just thinking that is so bizarre that I actually had a song in the movie. I'm amazed Catherine [Hardwicke] did. It really shows how none of us thought it was going to be so massive. I never thought people would buy the soundtrack. So, it's a little more nerve-wracking now. I don't know. Maybe.